You probably don't think of yourself as an art collector, but you do consider yourself an art lover. You know beauty when you see it, and how it makes you feel. And you know that enhancing your space with beauty, enhances your life, too.
Chances are you appreciate creativity of many kinds. But the art you're drawn to is contemporary, vibrant and timeless. It's as much about texture and colour, as it is about connection and a rich appreciation of the human experience.
Hello, I'm Michael Peech, and that's the kind of art I create in my Grafton, Ontario studio with my two dogs by my side. I work primarily on canvas with acrylics, oils and various mixed mediums, bringing together light and colour in varied stylings. 
My work has been featured in exhibitions and galleries across Canada and my paintings are in private collections throughout North America and Europe.
Welcome to my online home.
I invite you to come in,  take a breath, take a moment and explore my works and my website through the navigation above.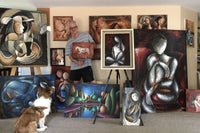 GALLERY
Browse the online gallery to see Current, Archived and Commissioned works. To find out how to obtain your very own Peech Artworks original, please get in touch.
CONTACT
Client Comment...
We commissioned Mike to create a large piece for the great room in our cottage, to hang on a wall adjacent to a wall of windows.   We explained that we  wanted something that would reflect the surrounding area.  He came up with four sections, each 4ft x 4ft,  which make up one beautiful work and we love that this design replicates the form of the adjacent windows. 
We love the piece and spend a lot of time admiring it, in the natural light and especially at night when it's illuminated.  It brings warmth and interest to the room and it has sparked many compliments and conversations.  We are very happy with Mike's work.
Elaine & Mark, Red Stone Lake Ontario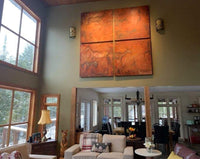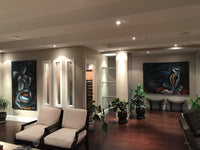 Client Comment...
We are so grateful to you Michael for the two sister paintings that you created for us.  I am still amazed at how well you captured all the elements I was  looking for in the panting we commissioned of my sister. You captured her spirit perfectly. Even though she is far away, she is with me in my living room every day.
I especially enjoyed the videos and photos you sent while you were creating her. It was amazing to see both paintings come to life. Thank you so much for sharing your artistic gift with us!
Mark and Lisa Gabourie
View More Commissions
Peech Artworks Goes Outdoors
Our friends at Off the Wall On the Fence are committed to delivering beauty through quality art to enhance outdoor spaces.
They are taking the familiar idea of art "off the wall" inside our homes and placing it "on the fence".
Weatherproof, durable and beautiful printed artwork produced purposefully for outdoor spaces. 
To transform your favourite Peech Artworks original for your outdoor space, contact us.